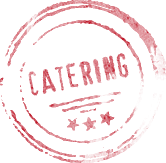 All catering comes with Tall Grass Bakery pretzel buns, pickled red onions,
and a trio of bitterroot bbq sauces.
                   $11 per person

pulled pork sandwich, cole slaw, pickled red onion, sauce, brioche buns
$16 per person
2 meats
2 sides
$19 per person
3 meats
3 sides
                      $22 per person
                      4 meats
                      4 sides
prices do not include tax or 20% gratuity when applicable.
we are happy to customize a menu specific to your event, needs, and budget!